Better Together, For Good. Our West End Plan to Recover & Thrive
As we start 2021, navigating our third national lockdown, the daily COVID cases are a stark reminder that we are not yet out of the woods – transmission remains high and many lives are still tragically being lost.
The weeks ahead will be our hardest yet, but don't let's despair – the end to this pandemic is clearly in sight and that's when, together, we can start The Great West End Recovery.
As for New West End Company, we are doing everything in our power to protect and safeguard West End colleagues and businesses. While we fully understand the measures being taken at the moment, we continue to urge the Prime Minister and Chancellor for a safety net of continued support for viable West End businesses who spent a third of 2020 closed. This requires the Government to act now on delaying the re-introduction of business rates and reversing the decision on abolishing tax-free shopping, which you can read more about in the Financial Times & Evening Standard.
Once we reopen, our top priority is to bring customers back to the West End and to continue our advocacy to all levels of Government to;
Get started on the Westminster City Council £150m Oxford Street District (see our comments in Sunday Times Business & Property Week)
Push the Mayor and TfL to open Elizabeth Line as soon as possible
Continue with the business rates holiday until fundamental reform
Reverse the decision to abolish tax-free shopping
Present and activate temporary uses and empty voids across the West End, to encourage customers back and drive future occupier demand
These run in parallel to our core services; COVID-secure place management during this lockdown and for our re-opening, key infrastructure improvements, customer communications and insights.
In order to continue representing and providing services, we are required to hold a renewal ballot with our levy payers every five years.
Today, at the start of a new year, on our recovery journey from COVID19, we set out our Business Proposal to secure your ongoing commitment to deliver five further years of transformation; A two-year action plan for our recovery, part of our five-year strategy – striving to return our district to £10bn annual turnover once again.
It has been a challenge to finalise our five-year strategy in the middle of a global pandemic. Our plan is agile with both immediate and longer-term targets, enabling us to respond to the changing trading and political conditions which we will all have to navigate, together.
So, our business proposal is not yesterday's document but today's. It is a plan based on what we learnt over the past twenty years, responding to sector trends accelerated by COVID and building on the collaboration we have truly valued and strengthened in 2020 with a collective focus on tangible results.
We are better together, for good.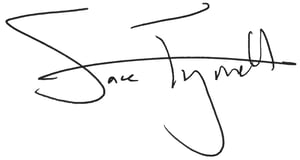 Jace Tyrrell
Chief Executive