The West End Reopens: A Message from Jace Tyrrell
This is the second time this year that I am writing to you as we reopen the West End and welcome back our valued colleagues and customers.
Once again, I am grateful for the resilience and hard work of all our businesses in preparation for a safe, and this time festive, reopening of our district.
Since we launched our first Christmas reopening guide, the country has been through a second lockdown which saw non-essential retail and hospitality businesses close their doors once again. We remain agile and flexible to the changes and we are pleased to share our newest guide, focussed on the three crucial weeks in the lead up to Christmas.
Click here to download our full Christmas Reopening Guide
This guide outlines important business guidance from both national & local Government, along with our continued campaigning work and upcoming initiatives to ensure that our customers can enjoy a festive West End experience. While we are continuing to go ahead with all activity outlined in our guide, we do have contingency plans in place for any initiatives that may be subject to any further tier level changes or restrictions. Please contact marketing@newwestend.com if you have any queries.
As lockdown lifts, we hope that this final reopening of 2020 will bring relief on some level to our member businesses who have been faced with the toughest trading year on record. Last week it was announced that London would reopen into Tier 2, with more stringent measures than before which will particularly impact hospitality businesses with serving restrictions and curfews still in place. We hope that, should the Covid figures continue to fall, we will be able to be placed into Tier 1 when reviewed on 16 December to give further relief to businessses in the lead up to Christmas.
Throughout the festive period the team at New West End Company will continue to position the West End as a COVID-safe destination in which to enjoy a unique Christmas experience. The West End is, and will remain, open to our colleagues and customers this Christmas, with festive and magical moments that are unique to our district returning to our streets.
REGENT STREET & CARNABY TRAFFIC-FREE SATURDAYS
For now, we have a number of initiatives in place to encourage the safe return of our customers to the West End. In partnership with Westminster City Council, The Crown Estate & Shaftesbury Plc, West End retailers and restaurateurs are coming together as part of #MyWestEnd to orchestrate a series of Traffic-Free Saturdays in the lead up to Christmas. Regent Street and Carnaby will be pedestrianised from 10am – 9pm on Saturday 5, 12 and 19 December for visitors to shop comfortably and view the world-class Christmas installations and festive windows throughout the West End.
SAFE & SECURE CHRISTMAS
To ensure that the magic of Christmas can be celebrated safely and securely this year, we are continuing our security, dog patrol and cleansing operations across the district. Our newly installed QR codes will also make it as easy as possible for customers to find their way around the West End, through which you can access our district map of sanitisation points, public toilets and bike parking.
SUPPORTING THOSE IN NEED
We must also remember that Christmas is not always a magical time for all. Our work with The Connection at St Martin's in the Field will continue to aid the most vulnerable in our district, and we encourage our member businesses and colleagues to donate this year. Click here for more information on the different ways you can help.
The Giving Bear will once again return to the West End, this year in Berkeley Square on Wednesday 3 December. In line with our Heroes campaign, we will be partnering with the Our Frontline charity, which supports key workers experiencing mental health issues.
As a final note, I would like to wish all of our our retail, hotel and restaurant colleagues working on the frontline my very best for the three weeks ahead. With a reduced Christmas trading period, colleagues across the West End will be serving millions of customers in three weeks rather than eight. It is vital that we work together to ensure that the West End family is looking after themselves and each other as we enter a festive season like no other we have seen before. The New West End Company team, as always, is on hand to help in anyway we can.
We are better together, for good.
I wish all our businesses a successful, safe and sustainable reopening.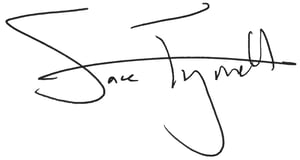 Jace Tyrrell
Chief Executive