'Get Your Royal On' at Oxford Street
A Series of Unmissable Coronation Experiences, Offers and Events from 6-8 May 2023
For the Coronation weekend (6 – 8 May), Oxford Street will be home to the best spots to shop, play, drink, eat and celebrate, encouraging visitors to celebrate the Coronation in their own way.
From Union Jack flags to pop up installations, Oxford Street will have a Coronation makeover with numerous spots for visitors to snap a picture of their day.
An array of the street's iconic shops, restaurants and leisure brands will run exclusive unmissable Coronation-inspired activity, from limited edition cocktails to shopping experiences fit for a King or Queen.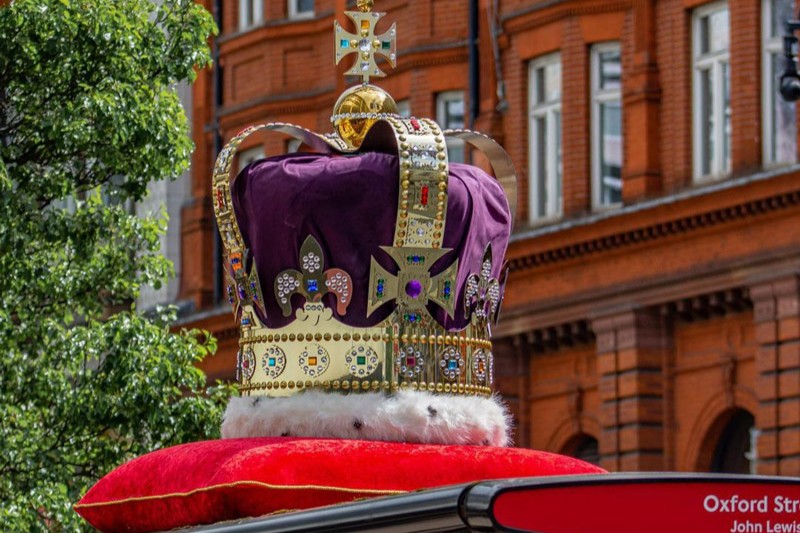 Across the Coronation weekend (6 – 8 May), we have launched our 'Get Your Royal On' campaign, in which the famous street's most iconic shops, restaurants and leisure brands will run exclusive can't-miss Coronation-inspired experiences, offers and menus to mark the occasion, giving its visitors a day to remember.
Oxford Street has undergone a Coronation makeover with Union Jack flags adorning the street in the lead up and during the bank holiday weekend. To give visitors a chance to capture the moment in history, there will also be a number of pop up artwork installations providing the perfect backdrop for memorable stand-in photo moments. As part of the Coronation festivities, a number of Oxford Street's bus shelters have been topped with crowns to give them the ultimate regal touch.
To celebrate the Coronation, we have also launched The A-Z of Oxford Street Royalty Map, spotlighting the best spots to shop, drink, eat and celebrate over the bank holiday weekend. From cocktails inspired by the Coronation, to a pop-up prosecco bar and specially curated afternoon teas, there will be something for everyone to enjoy on Oxford Street to mark the momentous occasion. Throughout the weekend, Oxford Street will be full of exciting surprises, with each one bringing something different to visitors who are looking to mark the Coronation in their own way. Click below for a sneak preview of the interactive map.
Shoppers visiting during the Coronation are spoilt for choice with a range of celebrations in store. British High Street favourite John Lewis, will be adorning its store with the iconic pearly kings and queens for fabulous photo opportunities on 8 May. Shoppers will be treated to the sounds of a live string quartet during the afternoons of 6 and 7 May. There is something for everyone, with a special bear-themed treasure hunt on 8 May for the younger visitors.
Selfridges' customers can plan a celebration fit for a King, from unforgettable experiences and musical entertainment in store, to unique gifting ideas and all the ingredients for a stylish picnic or party spread. To commemorate the special occasion, Selfridges' customers silver served champagne afternoon tea at Dolly's Café. Enjoy traditional finger sandwiches, warm scones and delicious savoury bites as well spectacular miniature desserts with a Coronation twist. Each table will receive a commemorative HRH Coronation edible plate, with a crispy gingerbread base, passionfruit caramel and dark chocolate ganache.
On 6 May, shoppers at Superdry can enjoy complimentary drinks and donuts at their Oxford Street flagship. For the same day, those who spend over £75 will receive a free vintage tee. River Island will be providing bubbles galore with its in-store prosecco bar. The store will also be hosting a competition for 10 lucky winners to win a bank holiday party worth a total of £10k.
Kick off the bank holiday weekend with a free-flow brunch at Aqua Kyoto. The bar and eatery is launching its Aqua Kyoto brunch, including four courses of innovative and contemporary Japanese cuisine accompanied by their house DJ and live entertainment. For a Spanish inspired brunch, try Aqua Nueva. Whilst there, visitors can also pay homage to the King's favourite tipple and enjoy a martini and soaking in the beautiful views of the London skyline from their rooftop bar.
For visitors looking for a more traditional experience, The Bond Street Tea Rooms at The Radisson Blu Edwardian Bond Street Hotel is highly recommended. Honour the King's upcoming Coronation with the quintessentially British ritual of an afternoon tea, served with lashings of tea and champagne. The Team Rooms is featuring a Mediterranean twist on British classics, serving a selection of Italian cicchetti, delicious finger sandwiches, homemade scones and the crowning glory: a decadent array of desserts. Marks and Spencer's will be hosting a bespoke Coronation afternoon tea, for those who want to pair their afternoon refreshments with their shopping session.
Games hub Boom Battle Bar is hosting The Big BOOM Best of British Brunch every Saturday through May. Head down to enjoy bottomless cocktails with DJs spinning classic British hits. For those not wanting to miss the Coronation proceedings, the Big Day is being aired on the bar's big screen.  Street food favourites at Market Halls will be bringing the party vibes with a dedicated event on 6 May. From dishes fit for a King, to unlimited Tanqueray gin and tonics and live music, Market Halls is the perfect place to toast to the Coronation.
For visitors looking to pamper themselves during the bank holiday, a trip to Dyson's Beauty Lab is highly recommended. Get royally made-up with a hair styling session using the iconic Dyson Airwrap, all with a complimentary glass of prosecco in hand. To create the ultimate relaxation day, pay a visit to the luxurious Lush spa. Relax and experience a world of treatments including a mineral bath, a multi-sensory massage or a reflexology session. Finish off a spa session with a trip to Lush's florist, where visitors will be able to make floral crowns throughout the weekend. To avoid disappointment, book in experiences with both Dyson and Lush in advance.
Visit www.oxfordstreet.co.uk for more information regarding 'What's On' across Oxford Street over the Coronation weekend and stay up to date with the celebrations on Instagram at  @oxfordstreetw1 
PRESS ENQUIRIES:
Four Communications
T: +44 (0)20 3920 0555
E: OxfordStreet@fourcommunications.com