We represent some of London's most iconic destinations from the luxury landmark of Bond Street to the world-renowned "Nations High Street" Oxford Street.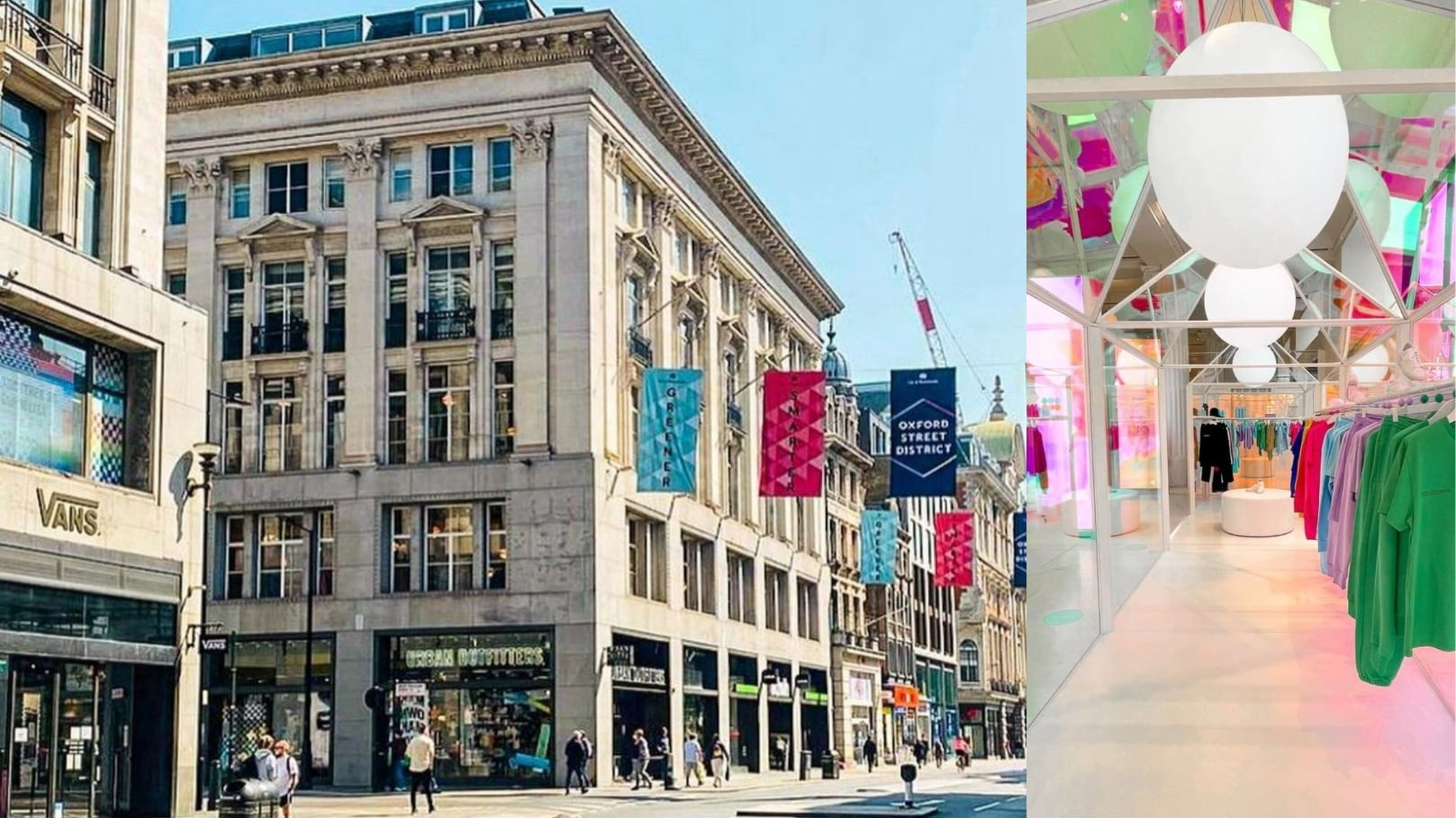 Oxford Street
Oxford Street, fondly known as "The Nations High Street" is home to a multitude of flagship stores for world renowned brands.
Bordering Marylebone to the north and Mayfair to the south, Oxford Street is a main thoroughfare in central London for public transport. Due to this, traffic management and air quality are central to all management strategies for the street.
Recent projects
In 2018, Westminster City Council (WCC) approved plans for the £150 million Oxford Street District Transformation, focusing on traffic reduction, enhanced public realm and policies to encourage positive growth. We are working closely with the City Council to support the project and deliver a long-term vision for the street.
Find out more about the Oxford Street District project below.
Promoting the street
Throughout the year, we run a number of initiatives in partnership with our members along the Street, including Beyond Now, the renowned Christmas Lights, and utilising the street for prominent events such as Pride each year.
We manage a bespoke website for Oxford Street at www.oxfordstreet.co.uk, where you can find out more about the brands and businesses that operate on on the street, as well as upcoming events.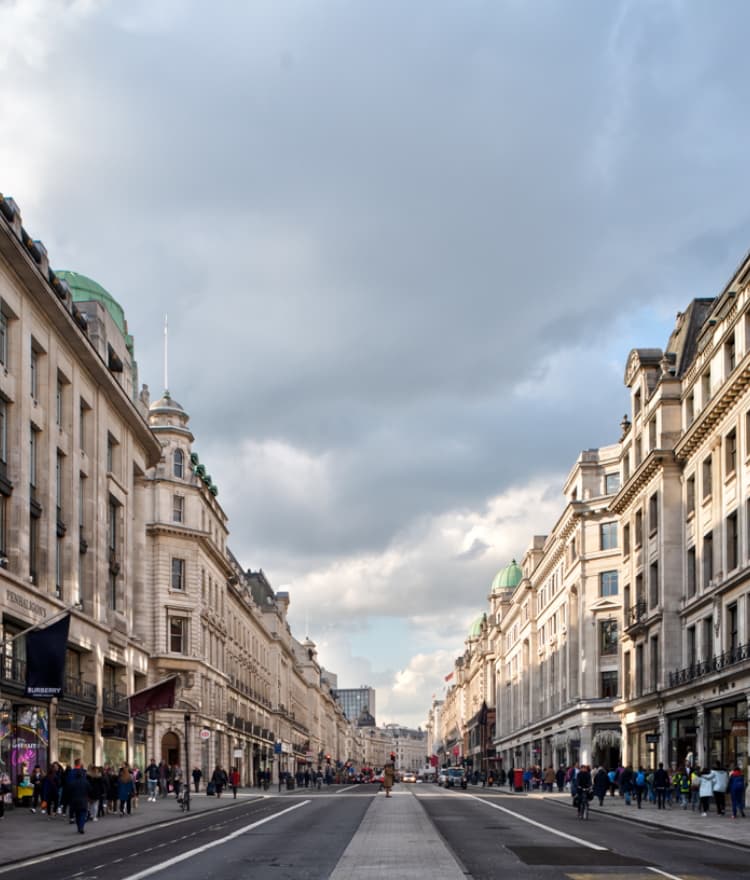 Regent Street
Commonly known as the world's first shopping street, Regent Street has remained a world premier shopping destination, where leading brands regularly choose to launch their European operations.
Recent projects
Under the management of The Crown Estate, major property redevelopments have created large, open retail floor plans, suitable for modern occupiers. This investment has yielded strong results and there is increased demand for space from a variety of international brands.
In 2021, The Crown Estate and Westminster City Council delivered interim plans for Regent Street, to help create a greener, safer and more accessible West End. Click here to find out more. 
Promoting the street
Regent Street, owned by The Crown Estate, is managed by JLL, Westminster City Council and New West End Company. The Crown Estate promote the street on regentstreetonline.com, which you can visit to find out more about the brands and businesses that operate on the Street, and for upcoming events.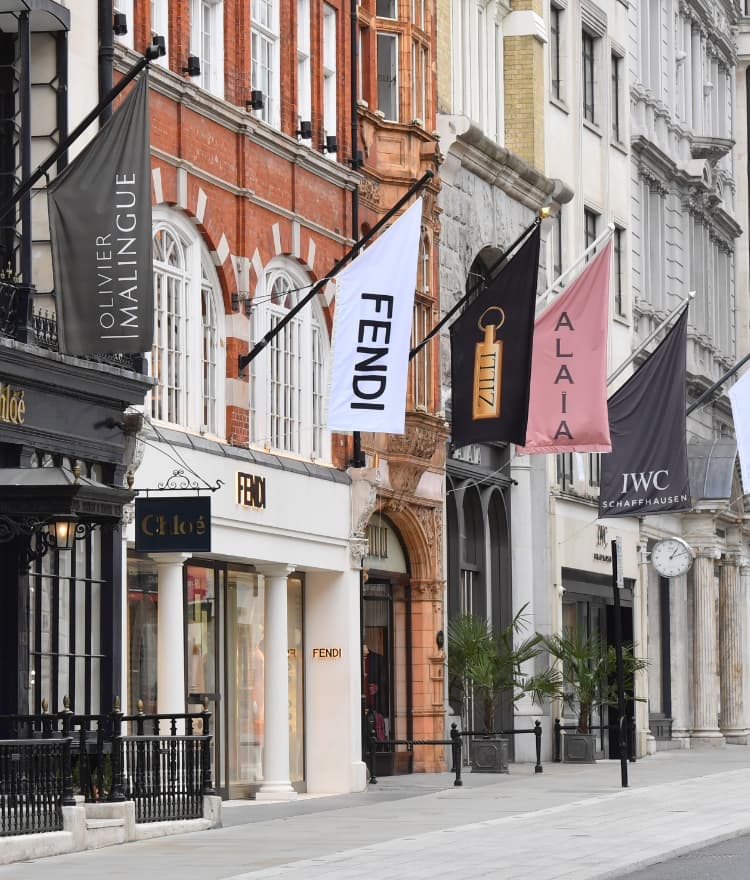 Bond Street
Set in the heart of Mayfair and encompassed by many of the world's most outstanding hotels and restaurants, Bond Street is a historical, cultural and luxury landmark.
Over 300 years since its foundation, Bond Street continues to attract the most stylish and influential retailers, brands, companies and people to the area, offering an unrivalled mix of traditional elegance and modern luxury.
Recent projects
2019 saw the completion of the £10 million public realm improvement scheme. Led by New West End Company, Westminster City Council and Transport for London, the scheme increased pedestrian space by 65%, creating a much more comfortable and relaxing environment for workers, visitors and shoppers. Click below to find out more about the Bond Street public realm improvement scheme.
The introduction of the Elizabeth Line to Bond Street will further transform public realm and the traffic and pedestrian flow around the area, strengthening the West End's position as the number one global retail and leisure destination.
Promoting the street
Our dedicated website www.bondstreet.co.uk hosts all our marketing and shopping information for our members. We also lead on a number of member destination campaigns and events and run our "by appointment" initiative.