We deliver an annual programme of activations and campaigns across London's West End to attract customers, drive spend, increase dwell time and offer an unrivalled customer experience.
Keep coming back for more
The West End is the retail, leisure and cultural heartland of the capital, and with seamless digital and physical campaigns and services, we provide unparalleled customer experiences to encourage visitors to stay longer and visit us again and again.
PROUD West End
PROUD West End, was an audio-visual exhibition of 'living portraits' celebrating people from the LGBTQIA+ community across the West End.
The on-street exhibition, curated in partnership with Heard Storytelling, shared real, authentic, lived experiences of 15 individuals who explored what 'PROUD' means to them, as well as their experience being part of the West End community, listened to by scanning the QR codes.
These 15 individuals were made up of members of staff from companies across our BID including staff from Selfridges, Adidas, Primark and Liberty.
Running for two and a half weeks on Old Quebec Street, PROUD launched ahead of London Pride, becoming the first official Pride celebrations for Oxford Street. After being so well received, PROUD WEST END moved to a neighbouring location after its two weeks exhibit ended on Old Quebec Street.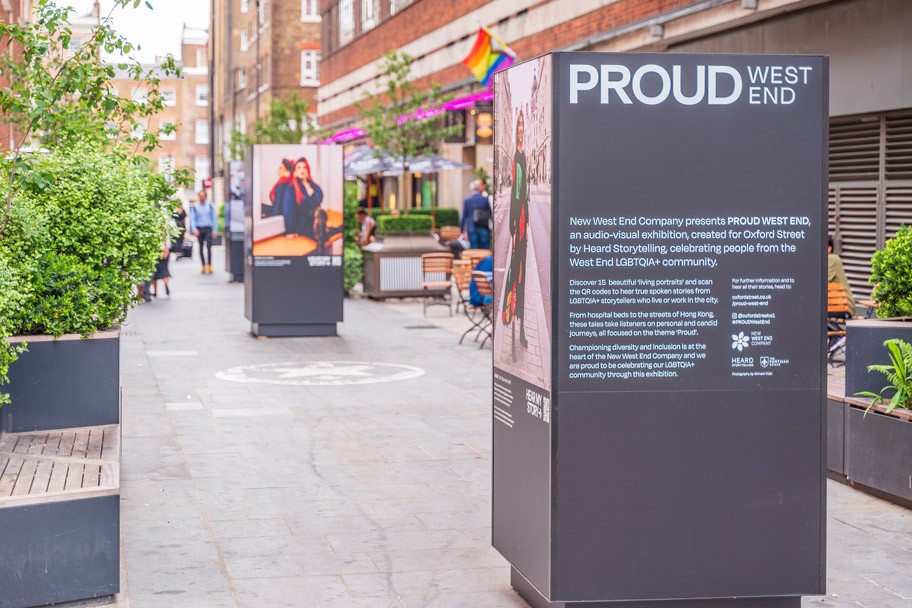 Coronation Celebrations
Across the Coronation weekend in 2023 we launched our 'Get Your Royal On' campaign, in which the famous street's most iconic shops, restaurants and leisure brands ran exclusive Coronation-inspired experiences, offers and menus to mark the occasion, giving its visitors a day to remember.
Oxford Street underwent a Coronation makeover with Union Jack flags adorning the street in the lead up to and during the bank holiday weekend. To give visitors a chance to capture the moment in history, we placed a number of pop up artwork installations that provided the perfect backdrop for memorable stand-in photo moments.
As part of the Coronation festivities, a number of Oxford Street's bus shelters were topped with crowns to give them the ultimate regal touch. We also launched The A-Z of Oxford Street Royalty Map, spotlighting the best spots to shop, drink, eat and celebrate over the bank holiday weekend. From cocktails inspired by the Coronation, to a pop-up prosecco bar and specially curated afternoon teas, there was something for everyone to enjoy on Oxford Street to mark the momentous occasion. 
Art in Mayfair
Each year, Bond Street partners with the Royal Academy of Arts for Art In Mayfair, a six-week celebration of art, fashion and culture. Visitors to Mayfair can immerse themselves in art, as flags, sculptures and events, transform Bond Street into a vibrant gallery.
Christmas in London's West End
Christmas is our busiest time of year and every season we try to make it even more magical for our visitors with street illuminations, special events and digital activations to excite and inspire festive experiences.
The West End Is Always On
We use our digital channels for Bond and Oxford Street and with The Crown Estate, Regent Street, to engage directly with more customers, promote our innovations and experiences and build the visitor community.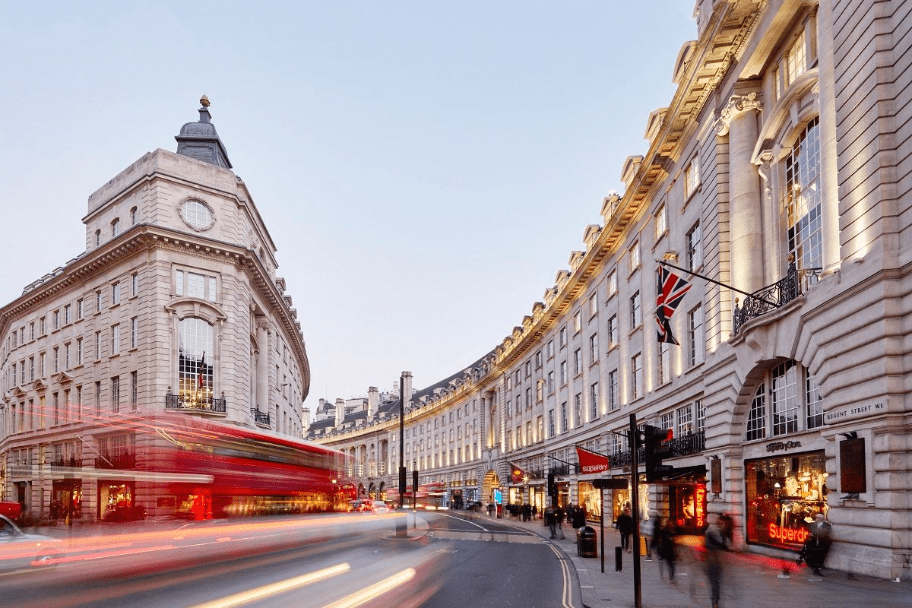 Join the West End Club
New West End Company run an exclusive local workers loyalty scheme available to businesses and employees in the West End. The scheme entitles members to exclusive offers across fashion, food, entertainment and well-being alongside invites to bespoke events.
To list an offer on the West End Club please contact Kate Stephenson on kate.stephenson@newwestend.com
To sign up to the app visit thewestendclub.com/join-us
Promoting Unrivalled Experiences in London's West End
London's West End is hosting a summer like no other, with the 50 most exciting and thrilling experiences that can only be discovered in the West End. Our international tourism campaign - Only In The West End This Summer - in partnership with Capco, The Crown Estate, Shaftesbury, Grosvenor Property UK & Heart of London Business Alliance, promotes our unrivalled experiences and offerings to our key markets to attract our international customers back to our District. Read our full press release here & watch below.
Oxford Street: Beyond Now
As we continue our journey towards becoming a leading Sustainable district, April 2022 saw the launch of sustainability campaign, Beyond Now, on Oxford Street in its second year. Visitors and shoppers were invited to learn more about how our Oxford Street businesses are providing more sustainable solutions through innovative in-store services, activations and product ranges. We are proud to be showcasing best practice here within London's West End and we hope to develop this campaign further in the coming years.